Welcome to Koei's Samurai Warriors wiki!
a Database that anyone can edit about the games, characters and more!
Ever since it foundation in April 1st 2010 the wiki has 170 articles and is always looking for more editors!
If you want to contribute in any way, feel free to create a free account to benefit more from the wiki, such as the Leaderboard's system!

Latest News
Samurai Warriors 4 is released worldwide.
Sengoku Musou 4 is released on PS4 in Japan.
Samurai Warriors 4 is set to release in October internationally.
Sengoku Musou 4 is set to release in Japan on 20th March 2014 on Playstation 3 and PS Vita.
Sengoku Musou 2 HD Collection has been announced to be released on the PS3 and PS Vita in Japan in October.
The new female character in Sengoku Musou Chronicle 2 has been revealed as Naotora Ii.
Sengoku Musou Chronicle 2 will feature two new Male characters Takatora Todo, Munenori Yagyu and a new female character.
Sengoku Musou Chronicle 2 has been announced and will be released on September 13th in Japan.
Sengoku Musou 3 Z Special is released on the PSP (Japan only)
Pokemon Conquest will feature Samurai Warriors 3 characters!
Affiliates
Samurai Games wiki
Sengoku Period wiki
Koei Warriors
Featured Article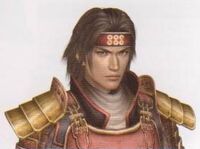 Yukimura Sanada
Yukimura Sanada, the brave hero who fought for honour and friendship throughout his life. From a servant of the last remaining generals of the Takeda clan to the hero who ended up being most respected even from his very own enemies.


Read more about Yukimura Sanada.


Featured Video
Video:Samurai Warriors Trailer
Contact Us
Create blog post
Latest Blog Posts
My brother is asking me for help on this game. He said that he collect all 4th weapons & 1000 KOs medals for all unique characters but he olny get al…

Read more >

Vote! who is the best Warrior in the Games?

leave an opinion.

Here it is!

People so far (votable)

Read more >
See more >
Recent Activity